Competition brings out the best in people and achieving a fitness goal is sometimes easier to achieve when it is a matter of personal pride or done with a partner. We challenge you to take advantage of some of the deals that we have at the moment and challenge that co-worker, friend or family member to one of our custom challenges. A perfect example of this the current Karen "Godzilla" Ma and Rami "Faht Boi" Abu-Hantash co-worker challenge.
When the daily teasing about their appearance and fitness levels grew to epic proportions at work, Training Ground was consulted to create a challenge that would be entertaining, realistic and fair. The staff at Training Ground were not allowed to accept either as personal training clients, or to provide anything other than basic nutritional recommendations. (The Fitness Challenge started on:  April 20th, 2011 and will end on June 30th, 2011)
Karen, "Godzilla" , got her nickname from Rami thanks to her screams of agony when she first started training and was tasked with the following:
Reduce her weight from the current 142 to 133
Reduce inches on the following

2 inches off of her waist from 29" to 27"
2 inches off of her hips 40" to 38"
She also wanted her upper arms to look leaner (definition on both triceps and biceps but not bulky)
Karen was educated on the little known fact that unless you are using a knife, you cannot target the loss of inches on a body part. With this knowledge she has been hard at work focusing on the total inches lost over all body measurements. Dedicated to her goals we watched Karen grow from struggling to complete the Strength Endurance and Toning class to joining the Muay Thai classes as well. She has already reported some near mishaps with her pants as she is not used to having them slide off of her hips so easily.
Rami, "Faht Boi", got his nickname from Karen after being asked repeatedly when his baby was due. We were amused that his basic goals were, and we quote…"To be more healthy, energetic, and make de ladies dem melt, ya dig"?  (Yes, we dig…truly a specimen). To quantify his results, Rami needed to :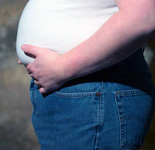 Reduce his pants waist size from 35" to 33"
Establish more muscle tone – judged based on his satisfaction after flexing in the mirrors when he comes out of the shower. (Uuuugh…the visual and no, we will not be proctoring this verification)
He was also tasked with the challenge to increase his endurance by running a 2km distance under 12 minutes and still perform 30 pushups immediately afterwards
We were pleased to see Training Ground students encourage him on his runs after the Strength Endurance and Toning classes and some even went so far as to run with Faht Boi to challenge his pace. (You all make us so proud to be your teachers and instructors)!!
Heathy fitness levels are obviously the spoils of achieving their goals, but the dueling twosome wanted to demand respect from the other in a more rewarding manner. Godzilla would be tasked with skipping her morning coffee and Faht Boi would have to live without his ritualistic bagel in the am.
These two are proof positive that with a little encouragement from a training buddy, refocusing on your New Year Resolutions can be something easy and fun! As we approach the final days of the challenge, expect to see the Training Ground staff behind both of you as you struggle to the finish. Keep it up!